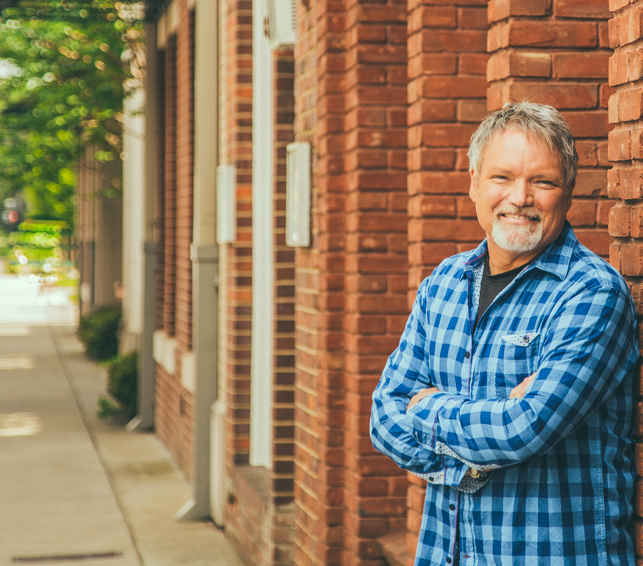 The last few years have been eventful for John Berry—in many ways, good; in another way, not. He has toured relentlessly, released new recordings, and hosted his own weekly syndicated television show (Songs and Stories with John Berry). But, as he tells us, he also had a recent battle with cancer.
John rose to stardom in the 1990s with such mega hits as "Standing on the Edge of Goodbye," "She's Taken a Shine," and his Number One hit, "Your Love Amazes Me." His annual Christmas tours brighten the season, highlighted by his electrifying rendition of "O Holy Night." During the '90s and early 2000s, John placed 17 singles on the country charts, 6 of which went Top Five.
We let John share a little of his life story with us. If you find him on board The Country Music Cruise, he'll be happy to tell you more.
Where's home these days?
Gallatin, Tennessee, just north of Nashville.
Growing up in Georgia, your father liked classical pianist Van Cliburn while your mom preferred gospel. Did you take any of their music on-board or seek out something entirely different?
The first record that really grabbed me was Carole King's Tapestry. It came out right around the time I started playing guitar. Carole often worked shows with James Taylor, and that sound hooked me in.
Was there one artist or one person close to you or one show that made you think, "Man, I gotta take a serious shot at music."?
When I was 13, we moved to Atlanta. It was an unexpected move. That was the year I started playing guitar. I had to go to a new high school where the only person I knew was my brother. My guitar became my best friend and helped me break the ice with my new classmates. Eventually, I made some lifelong friends at that high school. We became friends through music. By the time I changed schools, I was getting into John Denver who was my biggest musical influence. I loved John's music. The first major concert I ever went to was to see him in Atlanta. It was the Back Home Again tour. These days I play "Annie's Song" nearly every show. I only got to meet John once and that was in the February of the year he died.
What would today's John Berry like to tell teenage John Berry and all musicians starting out?
Just this: Remember it doesn't last forever. Don't think those checks are gonna keep on coming. Save every dime you can. Be smart with your money. You can have managers, producers, agents, and so on. They're all necessary, but only you can look after your wellbeing. You can't count on someone else. We're in music because we love it, but you've got to provide for yourself and your family in the long term.
Is there one song more than any other that has great personal resonance for you? Never fails to get you reaching back for something extra?
"Richest Man" off my latest record. It's about my father. It doesn't get much more personal than that.
You played at President George H.W. Bush's birthday. How did that come about?
It was when his son, George W., was President. It was a big event in Houston at the Astrodome conference center. George, Sr. and Mrs. Barbara Bush had birthdays that were very close—just a few days apart. They invited me, Michael W. Smith, and Larry Gatlin to play. The whole family were lovely people. President George W. and Laura Bush were real kind to me. I got a handwritten note from George, Sr. telling me that Miss Barbara raved about my voice.
A couple of years later, President George W. Bush was at a Welcome Home ceremony for the troops. I was there and he got off the plane. He saw me, recognized me, came right over. Said, "Good to see you again." He wanted to talk about my experience as a small businessman because entertainers are small businessmen. He was chatting away like he had nothing else to do. He had soldiers and generals stacked up to meet him. I think he has a warm heart for entrepreneurs. He was very genuine. Very sincere.
On a more somber note, we understand you were diagnosed with cancer this year.
Yes, throat cancer in January. Through last fall I played shows and it felt as if I had the skin of a Spanish peanut stuck in my throat. I did a Christmas tour and I'd recorded the Thomas Road album with "Richest Man" on it. A doctor gave me antibiotics, but that didn't clear it up, so I went to an Ear, Nose & Throat specialist. The doctor I saw had interned with Dr. Ossoff at the Vanderbilt Voice Center when I had vocal cord surgery in 1997. He looked down my throat and he said, "I'm a no BS kind of guy, and I'm pretty sure I see cancer." Of course, that was the last thing I wanted to hear.
One of the tonsils had a tumor and some cancer had spread to the soft palate. I had 7 weeks of chemo and 35 radiation treatments. I gotta tell you, it all sucks. I lost 60 pounds. Lost my saliva glands, temporarily I hope. Temporarily lost my taste buds. Food still tastes funny.
I'll tell you one thing. God has drawn me closer to Him through this. I have a stronger relationship with Christ. I was hit by a car when I was out riding my motorcycle when I was 20. I lost my mom the following year. I had treatment for a brain tumor in 1994 and vocal cord surgery in '97. God uses these things to get your attention. I asked my wife, "What is He trying to tell me?" She said, "I don't know, but I need you to figure it out."
Were you worried about permanent damage to your vocal cords?
I took it real slow in recovery. Sat around the house. Played guitar and sang a little bit more every day. Started back to work in May. Did make-goods for the shows I'd had to cancel.
Have you worked a cruise before?
Once, a long time ago, but my manager went on The Country Music Cruise and he was raving about it. He said, "We've got to get you on this cruise." I love getting close to the fans like that. We'll go to dinner, take photos, talk. I love to do all that.
NEWS ABOUT THE 2020 COUNTRY MUSIC CRUISE AND HOW YOU CAN JOIN ME:
Our January sailing may still be 6 months away, but we're already almost sold out at 95% sold! Every year we continue to sell out earlier and earlier on this once in a lifetime experience. We have some of the biggest names in country music on our star-studded lineup, but besides the incredible performances that you'll get to see, you'll also spend a whole week celebrating the country music lifestyle all while salling the beautiful Caribbean.
We'll have over 50 LIVE performances from Larry the Cable Guy, Randy Owen, Tracy Lawrence, The Oak Ridge Boys, Pam Tillis, Larry, Steve & Rudy, The Gatlin Brothers, Cruise Host Lorianne Crook, Moe Bandy, Johnny Lee, T. Graham Brown, David Frizzell, John Berry, Exile, Ben & Noel Haggard, Wade Hayes, Tony Jackson and so many more!
Enjoy special low rates when you book with the code BERRYFAN! I hope to see YOU with us in January on the High Seas!
https://countrymusiccruise.com/berryfan…